Community association board members, managers, and business partners regularly face challenging and complex issues that can spark strong emotions. Many recognize it's time to prepare for worst-case scenarios and to take steps to protect communities, colleagues, neighbors, residents, and themselves
According to a survey of CAI members in early 2023, 15% of respondents are greatly concerned about their safety. Twenty-nine percent report being moderately concerned, and 30% say they are slightly concerned. Ten years ago, a similar CAI survey showed 9% of CAI members being greatly concerned, 20% moderately concerned, and 42% slightly concerned.
Respondents are reporting more verbal threats from residents today. Forty percent say they've been verbally threatened several times compared to 28% in 2013. Just 6% of respondents report being physically assaulted at least once, down from 13% a decade ago.
As concerns about safety grow, 29% of respondents say they've adopted new or updated existing safety measures within the past few years.
Community associations and management companies have several options for adopting new safety measures or updating existing policies. They can be as simple as educating residents, board members, and staff members about safety and resolving conflict to more involved efforts such as installing security technology and working with law enforcement.
Some practical safety solutions to protect communities include:
Adopting an emergency action plan.
Attending (or scheduling) active shooter trainings.
Requiring annual (or more frequent) mandatory staff training to review protocols.
Contracting with uniformed law enforcement for board meetings, annual meetings, and community events or activities.
Installing security cameras.
Installing key fob access doors in on-site offices and community facilities.
Installing lockout deadbolts at front desk if threat is detected.
Installing panic buttons in on-site offices.
Laurie S. Poole, an attorney and partner with Adams Stirling in San Diego, recommends community associations adopt a heightened sense of awareness of unusual behavior or threats.
"This is one of those trust-your-gut moments if somebody in the community has acted in a manner that is concerning," says Poole, 2022 president of CAI's College of Community Association Lawyers (CCAL) Board of Governors. Written or verbal threats should be reported to the manager's employer, board, and perhaps even legal counsel.
>>Safety First: Evaluating Risks and Developing Practical Solutions offers valuable support to community associations navigating safety, security, and conflict prevention. Readers will find ideas, tips, and resources on protecting community, conflict prevention, and security options.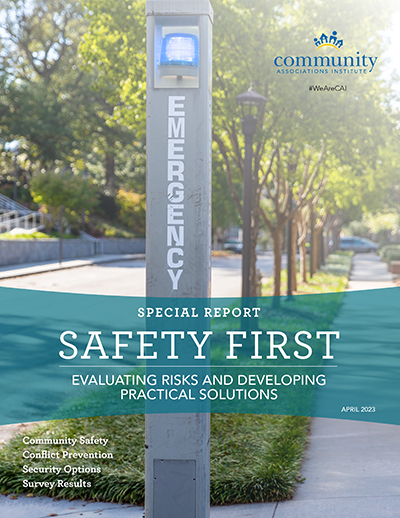 Who, What, Why, When, How
June is National Safety Month. When establishing and reviewing security and safety programs, community associations may want to answer the following questions:
What potential for danger exists?
Are there any security-related requirements in association governing documents or local law?
What and who does your community want to protect?
Who is responsible for implementing, maintaining, and evaluating the plans?
Have you requested input from all relevant parties, such as board members, managers, and residents?
Are there any insurance or liability issues?
How do you measure whether the plans are effective?