What will we remember about the COVID-19 pandemic when we look back at it a few years from now? I'm hopeful one thing that remains is how we've found solutions and support from each other, our neighbors, and within our communities.
It may be hard to think about that as the virus continues to impact significant portions of the U.S., and we should never forget the lives lost, the jobs that are vanishing, and the businesses forever shuttering. The new realities of face masks and social distancing are likely to linger too, but we also should be highlighting the good that is coming out of the bad.
There are thousands of stories of face mask and food donations, neighbors rallying around local businesses and cultural institutions, and support for the sick and elderly. At a time when we've been physically distant, this crisis has brought people together. We've thought of how we can help and how important a sense of community is.
According to a Public Agenda/USA Today/Ipsos Hidden Common Ground Survey (no connection with CAI's Common Ground™ magazine) conducted in March of 1,000 Americans, we are supporting local businesses (69%) and contacting friends and family more than we usually do (66%). Almost 60% have called close friends and family whom they would normally text or instant message. Nearly half (48%) have checked in on elderly or sick neighbors. More than a quarter of Americans (28%) have donated money, supplies, or time to help people in their community. More than half also said they were likely to donate going forward, demonstrating a growing desire to help those around them.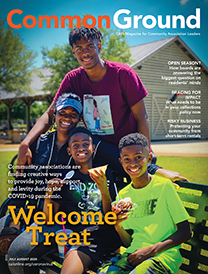 Community associations have been among the driving forces behind the spread of goodwill. Some of those efforts—as well as the work they've done to engage residents—are highlighted in "A Good Cause," the cover story in the July/August issue of Common Ground.
CAI, Common Ground, and this blog have benefited greatly from our members raising their hand and volunteering their time and expertise. Those willing to serve as sources or contributors have always been the backbone to the articles we write and information we distribute, but they've really stepped up lately. During a stressful and busy time for many, they've shared their ideas, opinions, and photos.
You can see those contributions throughout this issue, including the cover photo (thanks, Page Austin at Harvest in Texas) and the detailed guidance on reopening common areas and amenities (thanks, Michael Johnson at FCS Community Management in Utah).
As difficult as this crisis has been and as we confront the many challenges that still remain, the collective wisdom of CAI members is incredibly valuable. Thanks to you, we've already found solutions and support, we've found common ground, and we've found the strength of community.