Community association board members and managers frequently practice diffusing tension and communicating clearly. Today, they also need to prepare safety and security plans in the event of hostile and dangerous behavior. Though worst-case scenarios are rare, in an increasingly uncertain climate, a renewed focus has been placed on safeguarding residents, volunteers, and employees.
Christopher Lanni, CPP, CMCA, AMS, the president and founder of Secure Residential Services in Hudson, Mass., works to develop new security plans for communities, as well as to evaluate and update existing ones. He says that the first step in developing a plan is to evaluate the features of the community and to recognize its unique needs and vulnerabilities.
"No plan is one size fits all," Lanni says. "We must evaluate the unique physical aspects of each community. For example, what is the crime data in the area? What security measures are already in place, and can they be improved upon?"
Sometimes, as communities change, security needs to evolve too. As facilities are added or updated, try to maintain a constant awareness of what is needed to secure that area, even if it wasn't needed before.
Though many different security methods and tools can be employed, Lanni says it is important to understand the residents in your community and their tolerance. For example, would your residents be amenable to automated facility entry apps or would unique, encrypted key fobs make more sense?
"Having a culture of security doesn't mean you're creating an environment that is so strict and so tight that no one wants to live there. It means understanding your community's unique needs and developing a plan that considers what makes sense," Lanni explains.
He also recommends widening the understanding of security. "Many people have a limited view of what counts as security," he says. "Security isn't just the cameras or the guards. It's also the maintenance staff who maintain door locks and lighting and other equipment. It's the administrative staff who keep an active log of residents. Every cog in the machine is a necessary piece."
That's why Lanni believes it's necessary to educate residents about how each different part of their community operates, and how those things work together, so they can contribute to its smooth operation.
Community association leaders should ensure that their residents are prepared for emergency situations. Some require evacuation routes, while others require stay-in-place orders. It might seem simple, but making sure that residents know how to follow these procedures before a situation takes place could have a massive impact during an emergency.
Associations have many features designed to create a separate and unique living experience, but the reality is that every association still exists in the same world, and the world isn't always a safe place. Because of this, Lanni recommends that community leaders never use any language in their governing documents or communication with residents that can imply a guarantee of safety.
Instead, he recommends that communities convey their commitment to understanding and updating their security needs on an ongoing basis. As the world changes, so too do the places we live. Equipment needs to be up to date. Staff need to understand their role in securing a community, even when it isn't obvious. Residents need to be educated and aware of emergency procedures and policies. Safety can't be guaranteed, but communities that prioritize a holistic approach to security can maximize their preparedness.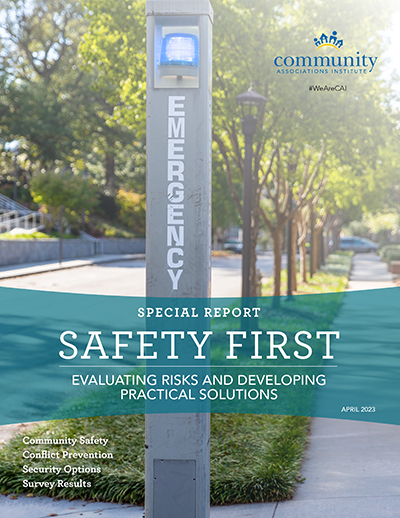 Find ideas, tips, and resources on community safety, conflict prevention, and security options in Safety First: Evaluating Risks and Developing Practical Solutions—available as a print or digital book. Buy now.